Cleaning Tips for a Greener Home
There's no perfect time of year to clean up around your house. Actually, Staheekum recommends doing a deep clean every few weeks to keep your home looking fresh. While we all want to keep a polished home, but many of the cleaning methods we're used to can actually be more harmful to you and the environment than you think. Check out our list below of many ways to clean your home while minimizing harm to yourself and those around you!
1. Opt for "Safer Choice" Label Household Products
Safer Choice is a label designated by the US Environmental Protection agency. The icon helps consumers and commercial buyers to identify products that use safer chemical ingredients while still performing as well as other more toxic cleaning products. Currently, more than 2,000 products qualify to carry the Safer Choice Label. Companies who make products carrying the Safer Choice label have invested heavily in research and reformulation to ensure that their products meet the Safer Choice Standard. These companies are leaders in safer products and sustainability. Every ingredient in a submitted product is examined to meet strict safety criteria for both human and animal health, as well as safety standards for the environment. Learn more at the EPA's Safer Choice website.
2. Skip the Windex and Clean your Windows with Vinnegar and Water
Instead of using Windex or other window cleaning products that contain a lot of toxic chemicals, try using a more natural solution of mixing vinegar and warm water. We suggest using 10 parts water for every 1 part vinegar. Avoid a lot of contact with wooden window frames to avoid discoloration. We guarantee that this mix will work just as well and won't fill your home's air with more harmful chemical particles. Avoid using ammonia or alcohol-based window cleaners too as they tend to be more toxic and leave streaks in your windows.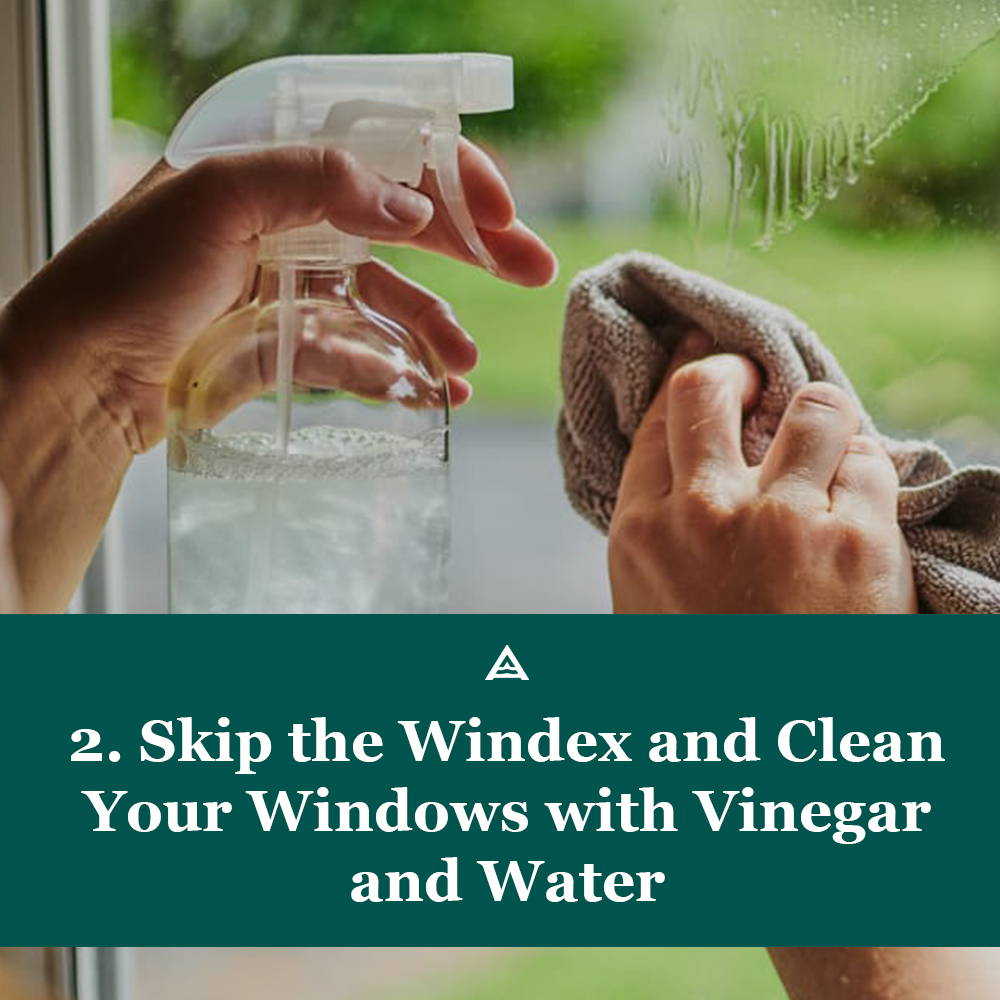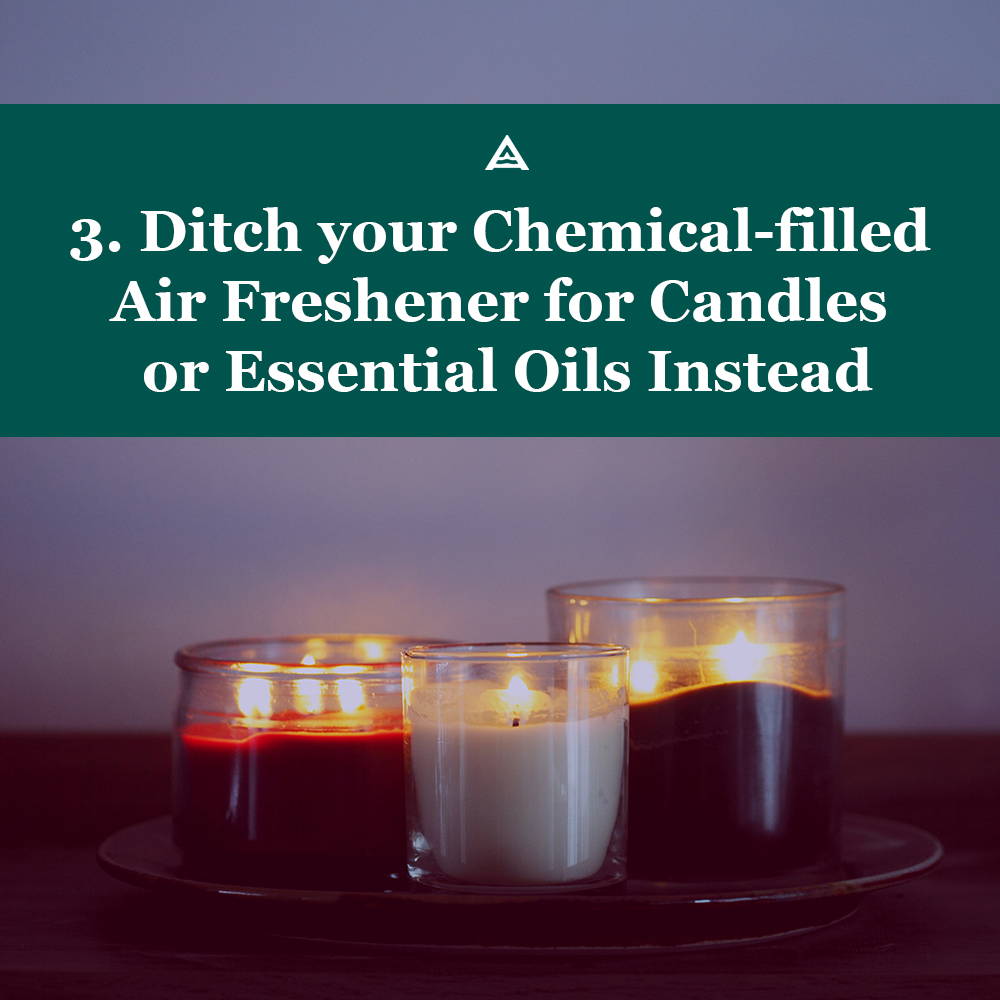 3. Ditch your Chemical-filled Air Freshener for Candles or Essential Oils Instead
a. Most modern plug-in air fresheners have a wide variety of unique scents to fill your home and keep it smelling fresh or even outdoorsy if you want. However, this comes at the cost of using lots of harmful chemicals - even the "green" or "organic" ones. According to a study concerning air fresheners in indoor environments, fewer than 10 percent of air freshener ingredients are typically disclosed to the public. This is due to little or no safety testing and regulation. Many of the ingredients inside may actually be carcinogens or cause harm to your reproductive health. These fresheners don't actually neutralize the odors in your home but cover them up with stronger smells. More natural alternatives like candles or essential oils will cover up smells the same way but without the toxic byproducts of modern air fresheners so you can breathe easy and feel homie in your own home.
4. Wash your Clothes with Cold Water in the Washer
Next time you're washing a load of laundry, try washing them with a colder water option. The temperature of the water doesn't make a huge difference with today's detergents when it comes to most stains, though it will make a difference in your energy bill over time. An estimated 75 to 90 percent of all the energy in your washer goes to heating up the water according to GE Appliances. Delicates actually wash better in cold water too, and hot water tends to shrink cottons over time. While cold water will work most of the time for keeping your dirty clothes cozy and wrinkle-free, there are certain fabrics like knits and synthetics probably should be washed in warmer water. In the end, the label instructions are always right.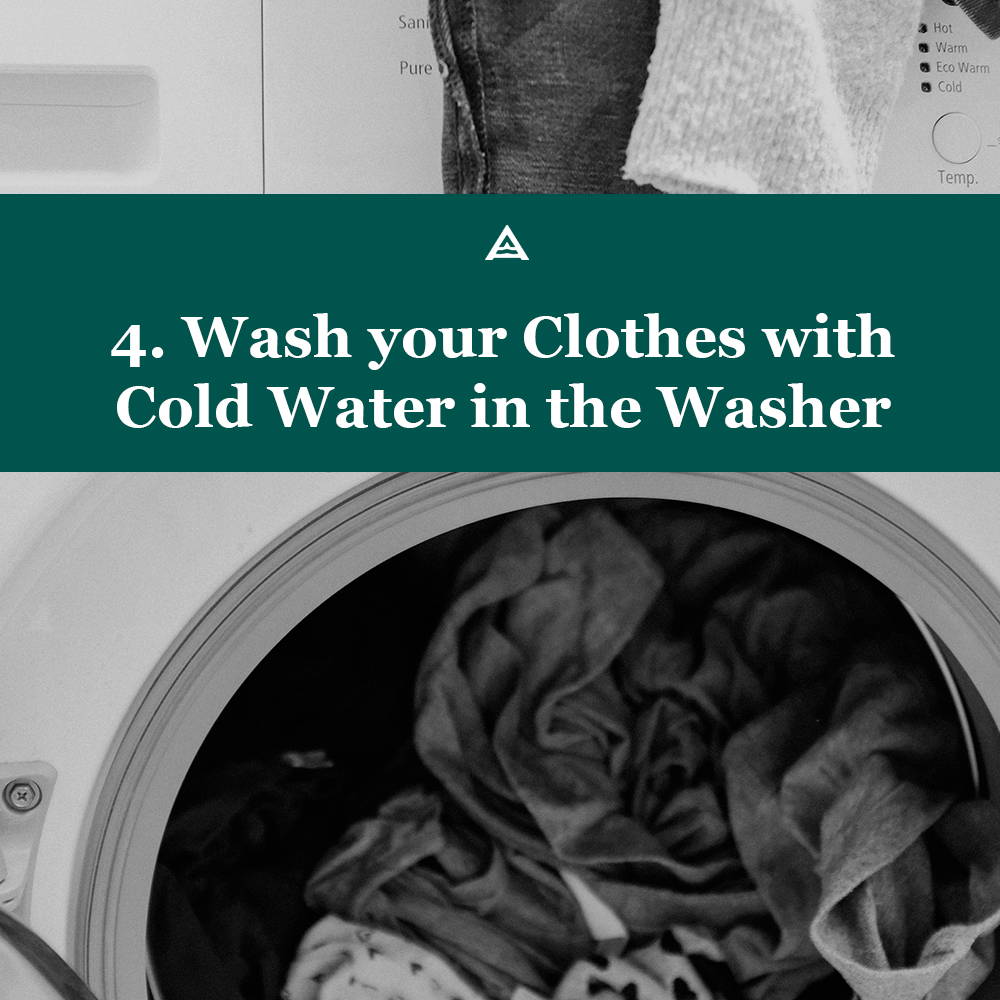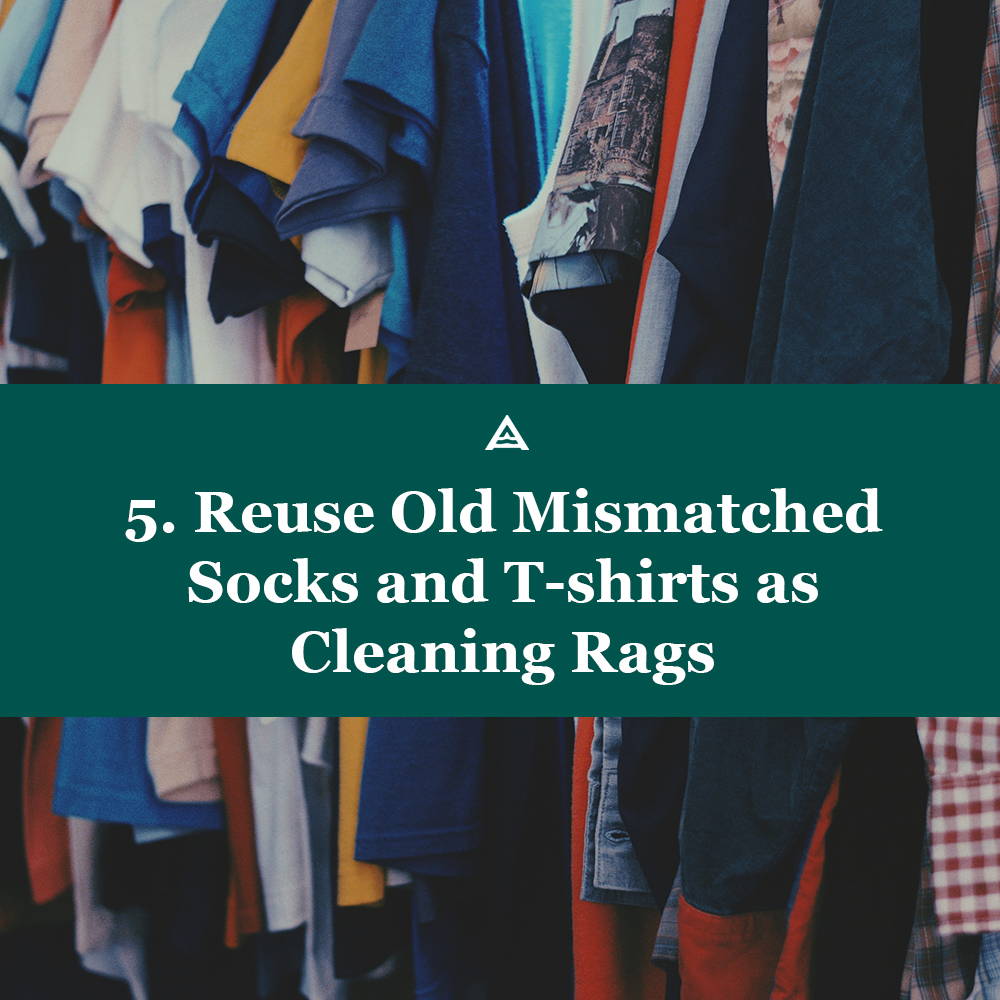 5. Reuse old Mismatched Socks and T-shirts as Cleaning Rags
Take those old shirts and socks laying around your closet and finally put them to good use as cleaning rags. Recycling your old clothing this way extends your product's life cycle and reduces the waste you might normally make using paper towels. You can even cut your shirts that aren't comfortable anymore into squares for wipes or dust rags. Plus you can throw them in the wash with other cleaning rags.  
6. Make an Effort to Recycle Instead of Throwing Old Products Away
Though it only takes an extra few seconds when cleaning up around the house, recycling can be one of the most important. Properly sorting your waste helps ensure that waste management centers can properly sort and recycle your old bottles, cans, cardboard, and whatever else you might have to get rid of. It helps to look into your local waste management's requirements to know what they are capable of taking to be recycled and what should be thrown in the rest of the trash.
One of the most important ways you can keep landfills free from toxic chemicals that eventually leak from old batteries is getting rid of your old electronics in a recycling receptacle instead of just throwing them away. The Lithium in these device batteries wreaks havoc on the soil it drains into and can poison and kill wildlife if it drains into a water source. Always be responsible with how you dispose of old electronics or find a way to recycle by giving them to a friend.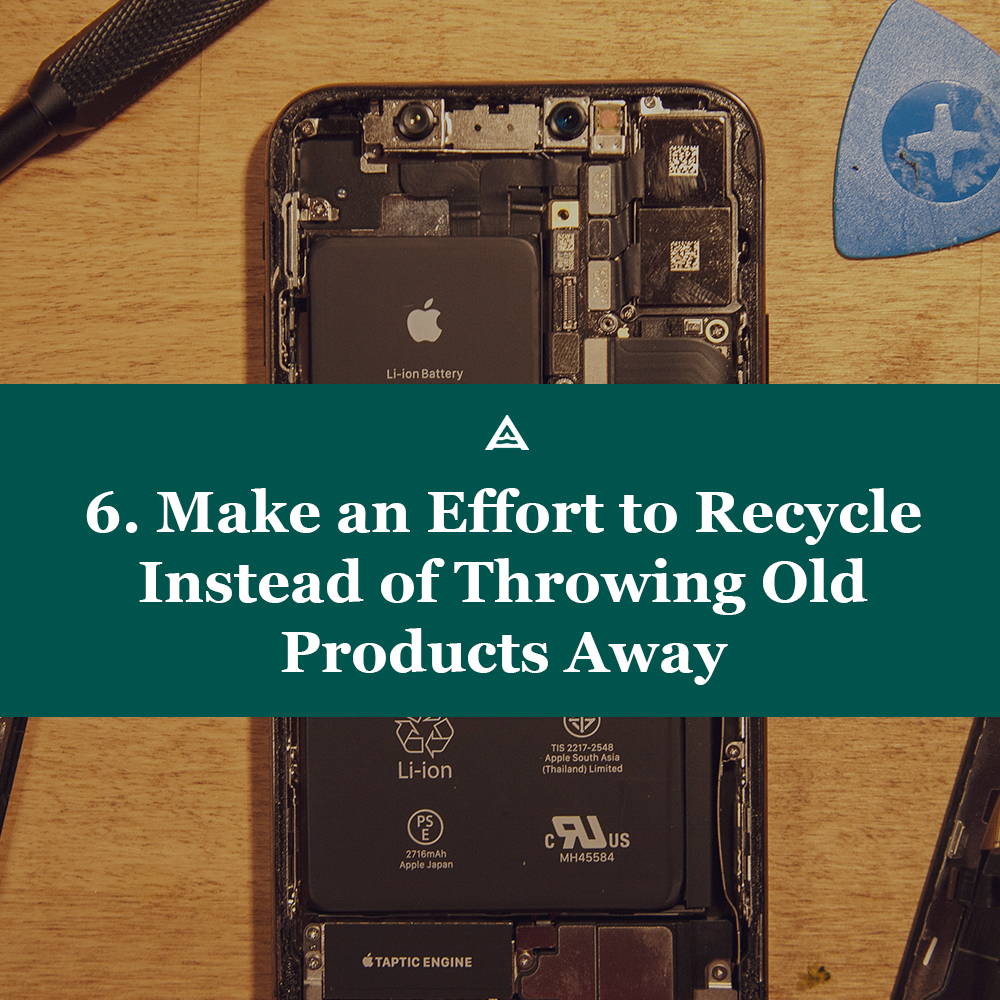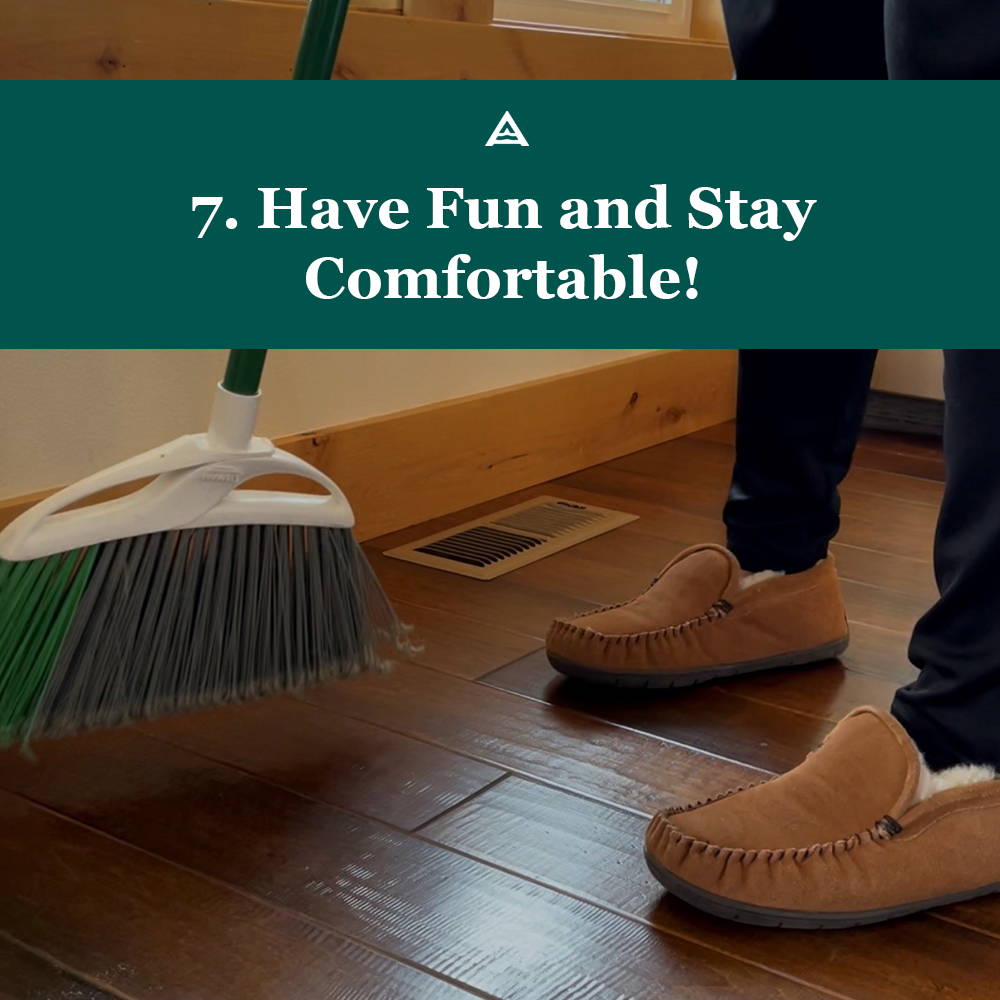 7. Have Fun and Stay Comfortable
Lastly, cleaning your house isn't just a chore but a chance to start fresh and revitalize the place you live. We all have homes that come in many shapes and sizes, though staying comfortable and rocking your favorite pair of comfy slippers will make the experience more fun – Just don't track dirt in with your indoor-to-outdoor shoes. We recommend putting on a playlist to zone out to as you get to work!  
---